The electric vehicle (EV) market is heating up again as companies expand their electrified options. EV makers generally offer sedans, station wagons, sports cars and similar car body styles. But several EV giants, along with traditional automakers, are turning their attention toward heavy- and light-duty electric pickup trucks. As they move into this new market, expect EV stocks to soar.
SUVs and trucks are popular, and offering electric versions of them is key to combating climate change in countries such as the U.S. Pickup trucks are an integral part of "American living" for some and automakers cannot risk alienating these customers. As truck buyers consider making the switch to EVs, performance and long-term cost savings will prove critical to the success of electric pickup trucks.
Several EV companies have thrown their hats into the proverbial electric pickup truck ring. These include well-known EV and automobile manufacturers as well as new startups focused on the electric pickup truck niche. As companies expand their electric pickup truck options, these seven EV stocks could benefit from a subsequent boom:
Hyliion Holdings (HYLN)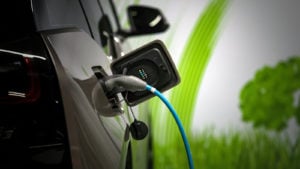 Hyliion Holdings generally focuses on Class 8 trucks, but it also plans to be a disruptor in the electric pickup business. With its current technology, it offers existing truck owners a cheaper option compared to Tesla (NASDAQ:TSLA) and Nikola (NASDAQ:NKLA).
Hyliion essentially provides a hybrid solution for Class 8 trucks that involves electric powertrains. The technology significantly improves a truck's fuel efficiency.
Moreover, the company will be launching the Hypertruck Electric Range Extender (ERX). This fully-electric powertrain uses an on-board generator to produce energy from natural gas or hydrogen. The company expects to begin production of the Hypertruck in 2022.
Hyliion's management claims their powertrain solution has a payback period of a couple of years. Additionally, trucks fitted with Hyliion's powertrain can utilize the existing fuel infrastructure operating in the country.
The company expects to earn revenues by the second half of this year and has more than $470 million in its cash until then. HYLN stock has excellent potential to carve out a sizeable market share in its niche.
Ford Motor (F)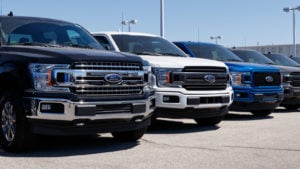 Ford is one of the most globally recognizable automotive companies and is clearly not a pure-play EV stock. However, in the past few years, it has invested heavily in the sector to remain competitive in the era of smart vehicles and clean energy.
The automobile manufacturer currently offers two fully electric vehicles: the Mustang Mach-E and the F-150 Lighting pickup truck. Ford also has several plug-in hybrid vehicles that round out its incredible EV portfolio.
Sales of electrified vehicles were up a healthy 117% in June for Ford. Despite production constraints, sale numbers of the Mustang Mach-E have been rising at a healthy pace.
The F-150 Lightning will hit markets next year and should boost F stock considerably. The standard model comes with a 230-mile range and the extended version comes with a 300-mile range. The vehicle's price starts just below $40,000.
With strong sales and a new electric pickup truck, there's plenty to look forward to with Ford's EV endeavors this year and beyond.
EV Stocks: Lordstown Motors Group (RIDE)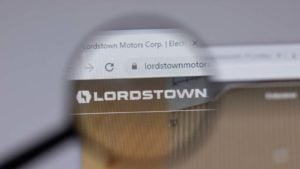 Lordstown Motors is the company behind the Endurance EV pickup truck. The company, which specializes in electric work vehicles, claims the truck is the "world's first all electric commercial pickup."
RIDE stock has had a rocky few months to say the least. It has been at the center of multiple controversies, including fake orders and allegations that Lordstown Motors misled investors. But despite all odds, testing for its pickup truck is on track and it's still on schedule to begin production in September.
The Endurance truck has several unique features that make it an exciting addition to the market. It uses a motor at each wheel to generate a combined 600 horsepower and an all-wheel-drive system. Additionally, there is a 7,500-pound towing capacity, and Lordstown estimates the truck's range to be 250 miles.
Liquidity is a major concern, but Rich Schmidt, the company president, believes the startup has enough cash to fund production through May 2022.  It could also qualify for an Advanced Technology Vehicles Manufacturing (ATVM) Loan after its internal investigations come to a close.
Full story on InvestorPlace.com