Wall Street is in a tug of war of opinions. There are experts expecting another rally to start soon. Conversely, a horde of pundits think the bull run is on its last leg. My bet is that markets will continue to see-saw higher for a few months. This is a good scenario for finding stocks to buy in the meantime.
Today we've collected an eclectic bunch, without a common thread. The only thing they have in common is the recent negative price action. One is suffering from headlines, the second offers a technical opportunity, and the third is a turnaround story. It is also important to note that they have different risk profiles.
These are short-term trading opportunities for the most part. Long term, all three could eventually provide investment thesis, but only for patient traders. Last week, the indices shrugged off — to an extent — a very scary headline. The economic reports showed extremely hot inflation numbers. Stocks initially fell on those headlines, but they quickly stabilized.
The markets did not capitulate, so they faced fears of rate hike with maturity. The Federal Reserve has two mandates and one is to control inflation. They are happy with the progress so far, but run-away inflation would force their hand. If the inflation rise continues, they will have to be aggressive with hikes. But for now, they have assured us that the rate of increase is transitory.
Rate Hikes Are Not Imminent
Although we didn't have a hike, investors usually extrapolate from inflation reports. Currently, speculation is that we will have rate hikes next year. How many and how frequently are the mystery variables. My gut says that they won't raise rates until late next year.
Inflation becomes a problem if it crimps spending. That's when the P&L of companies will suffer. And so far, there's no evidence of this happening. Consumer spending remains strong and typically it is two-thirds of the U.S. economy.
This utopian situation came about from the massive stimulus. First, we had a bit of inflation from the "normal" QE infinity. Then the new wave of trillions for the pandemic took it up a few notches. It was inevitable that we would get inflation as a response. Moreover, businesses are hiring and there are record jobs to fill. Also, the government is still paying people to stay at home to a degree.
This is all to say that we have a perfect storm to print high inflationary reports. Nevertheless, so far this is not choking the economy. Lebanon is currently experiencing hyper-inflation, and the people there cannot afford to buy herbs, let alone protein. Conversely, the U.S. is thriving judging by how many Amazon (NASDAQ:AMZN) vans are on the roads.
Until something changes, it is best to seek stocks to buy on dips or breakouts. Here are today's three:
Stocks to Buy: Peloton (PTON)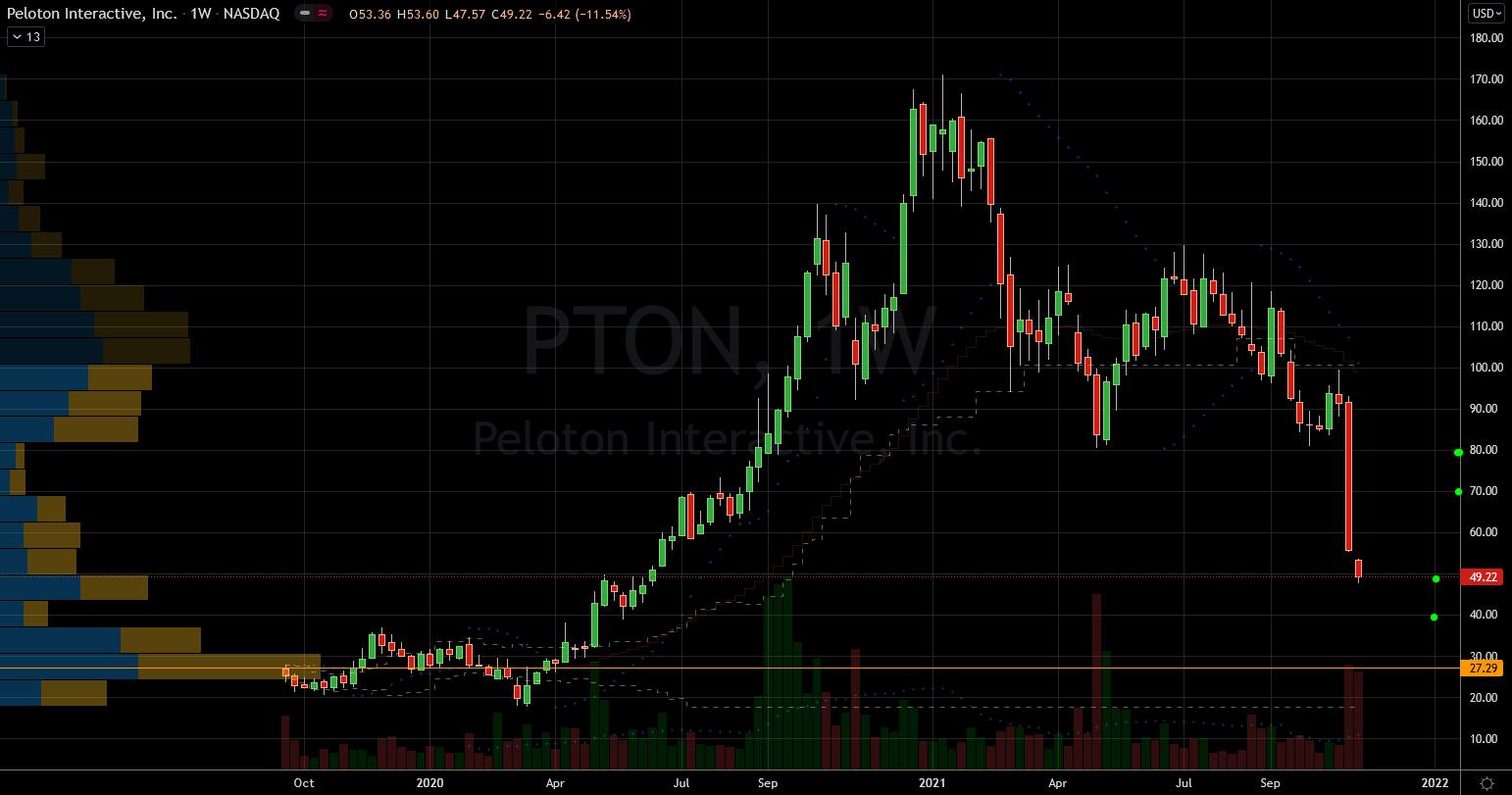 Peloton is now trading like a biotech stock. By that I mean that every day could be a headline event like earnings. This makes it incredibly dangerous to trade in the short term. This also makes it potentially very profitable for those were brave enough to do it.
PTON stock recently lost almost half of its value in under a week. This brings it back to breakout levels from last June. Normally these offer support zones on the way down. However, in this case, the bulls are gun-shy because of recent headline shellacking.
Eventually management will likely deliver enough progress to soothe the panic sellers. However, they cannot control the rhetoric around it in the media. The litigation issues are also looming for another few months.
Fundamentally, the financial metrics are not horrific, because the income statement is OK. The rate of total revenues is $4 billion, which is four time what it was in 2019. Statistically, its 3.7 price to sales is cheap if they can maintain the sales growth. That is a big if at this point because of their strategic maneuverings. For the next few weeks, PTON stock remains a speculative bet.
Technically, fast traders should mind the $47 per share. Losing that could embolden the sellers to press it down closer to $15 from there. Conversely, the upside potential is a giant gap that could lead it to $80 per share. Neither of those two are going to be easy scenarios, so this is a trade for active investors. It is likely to require babysitting for weeks.
Full story on InvestorPlace.com