Back on March 19, Luke Lango alerted members of his Crypto Investor Network that Bitcoin (BTC-USD) was completing not one, but two pennant formations: short-term bearish and long-term bullish. Depending which won out, Luke predicted, "Bitcoin is about to either make a big move higher or lower" before April.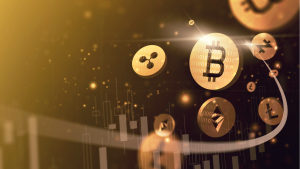 Sure enough, the breakout arrived yesterday… And the bulls are back in the driver's seat! While stock indexes have stalled out for about a week, BTC broke above $47,000 and Ethereum (ETH-USD) looks headed to $3,500, a level it hasn't seen since January. Below are the top stories being cited as major contributors to the rally.
Terra Buying Tons of Bitcoin for Stablecoin Reserves
Terra (LUNA-USD), whose UST stablecoin soared in popularity all throughout the crypto winter, has been on a bitcoin buying spree to make sure it stays that way. Before Terra is done, it plans to amass $10 billion in "digital gold" as reserves backing up its stablecoin.
Terra's latest purchase (reported by Blockworks this morning) amounts to $133.6 million, and that's just one batch; Terra is rumored to be buying roughly $125 million worth of BTC every day! "These daily purchases could also last for months if [Terra] does in fact want to get to $10 billion of BTC reserves," notes George Kaloudis in yesterday's Crypto Long & Short newsletter from CoinDesk.
"If successful, UST could become a dollar stablecoin backed by a completely auditable, transparent and decentralized digital asset. That's a big deal," Kaloudis concludes. "You won't need to trust [Terra founder] Do Kwon that the collateral is there, nor an accounting firm that will qualify its assurances with weasel words. You'll be able to see for yourself on the blockchain."
Even before the news, rapid adoption of UST propelled Terra to the #2 smart-contract platform by total value locked (TVL), Messari reported. Ethereum still reigned supreme, at $110.5 billion, but Terra's $20.3 billion far outweighs the rest of the pack: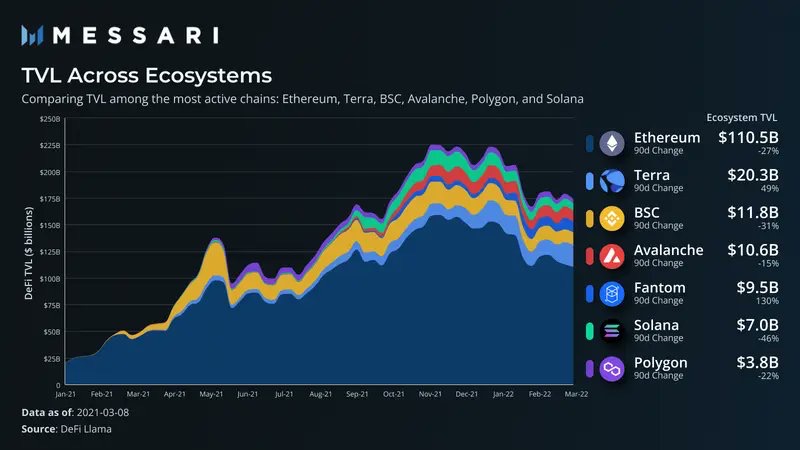 Why has Terra pulled so sharply ahead? Lots of people are either staking or using debt protocols on the Terra network to earn high yields.
The biggest one, Anchor Protocol (ANC-USD), pays 19.5% on your UST! To protect its position – and its users – the Anchor community just passed a new "semi-dynamic earn rate" policy.
Before, Anchor's yield was fixed at 19.5%…a situation that critics argued was unsustainable. Now, each month your yield could rise (or fall) by 1.5%, depending on whether the yield reserves have risen or fallen that month, "contribut[ing] to the long-term stability of Anchor." Even 18% is a pretty amazing yield – and could actually attract more users to Terra as it prioritizes safety and stability.
FOMO Ahead of Ethereum Merge
Meanwhile, crypto watchers like Ilan Solot of Tagus Capital also argue that "FOMO (fear of missing out) is kicking for ETH pre-merge."
It's been years now that the Ethereum Foundation has promised to shift ETH from proof-of-work to a proof-of-stake consensus mechanism. The current set-up requires a lot of electrical power, as we see here on the Bitcoin network. And it's also contributing to much higher "gas fees" and slower speeds for Ethereum versus its proof-of-stake peers.
But Ethereum's Beacon Chain, where it's started implementing proof-of-stake, is expected to merge with the main Ethereum network in June. At that point, proof-of-work goes bye-bye, and Ethereum can offer a user experience more like, say, Solana (SOL-USD).
As the Merge rumor mill churns, several of the biggest crypto breakouts have been ERC-20 tokens on Ethereum:
Gnosis (GNO-USD), which specializes in prediction markets: +60% in the past 7 days
Holo (HOT-USD), which helps bridge blockchain apps to the rest of the internet: +50%
Convex Finance (CVX-USD), a staking platform with 6%+ yields: +50%
Loopring (

LRC-USD

), which will host GameStop's (NYSE:GME) NFT marketplace: +40%
Chiliz (CHZ-USD), which provides sports fan tokens: +38%
MiCA Moves Forward Again Without Bitcoin Ban
Speaking of proof-of-work: All that energy usage has made Bitcoin unpopular with the environmental crowd. I've argued before that this is precisely why Bitcoin could lead the charge toward clean energy. But for now, skepticism is understandable.
Happily for BTC investors, though, crypto regulations have taken another step forward without banning proof-of-work.
As the EU debated its Markets in Crypto Assets (MiCA) bill, bitcoin haters sought to prohibit proof-of-work entirely – but that provision was struck down in committee on March 14.
Next, MiCA will be debated by the "trilogue" of the European Parliament, the Council of the EU (heads of state), and the European Commission (executive branch).
In the meantime, there were "concerns that other EU leaders in favor of limiting the use of proof-of-work cryptocurrencies would make one last attempt," but now they've missed their deadline, CoinDesk reports. The environment will still be a major topic of concern… But at least regulators are willing to weigh the options.
Outside of the EU, of course, governments are coming around – even outright embracing crypto. It's a New Digital World, after all, and sooner or later the politicians will have to live in it, too.
Originally published on InvestorPlace.com
On the date of publication, Ashley Cassell did not have (either directly or indirectly) any positions in the securities mentioned in this article. The opinions expressed in this article are those of the writer, subject to the InvestorPlace.com Publishing Guidelines.