With the majority of mega cap earnings results already released, this upcoming week's reports will focus mostly on retailers and their forecasts for 2022 amid inflationary prices and lingering supply-chain disruptions.
Investors will also be watching for updates on the ongoing worker shortage and the impact of all of this on retail sales and prices. Inflation in the US climbed to its highest level in 40 years in January, with prices rising by 7.5% from a year ago.
With this challenging economic backdrop during this upcoming holiday-shortened trading week, markets may experience more volatility on geopolitical developments in Eastern Europe. U.S. President Joe Biden said over the weekend that he's convinced Russian President Vladimir Putin has decided to attack Ukraine and that an invasion—including a strike on Kyiv—could happen "at any time."
Triggered by the above-mentioned drivers, the Dow Jones Industrial Average suffered its worst day of the year on Thursday when the mega cap index shed more than 600 points. As well, three major U.S. averages were lower for the week with the Dow off 1.9%, the NASDAQ down 1.7%, and the S&P 500 slipping 1.6%.
Below, we've short-listed three stocks which could see some accelerated trading action after they report quarterly numbers during the week ahead:
1. Home Depot
Home improvement giant Home Depot (NYSE:HD) reports fourth quarter earnings on Tuesday, Feb. 22 before the market opens. Analysts expect $3.17 a share in profit on sales of $34.83 billion.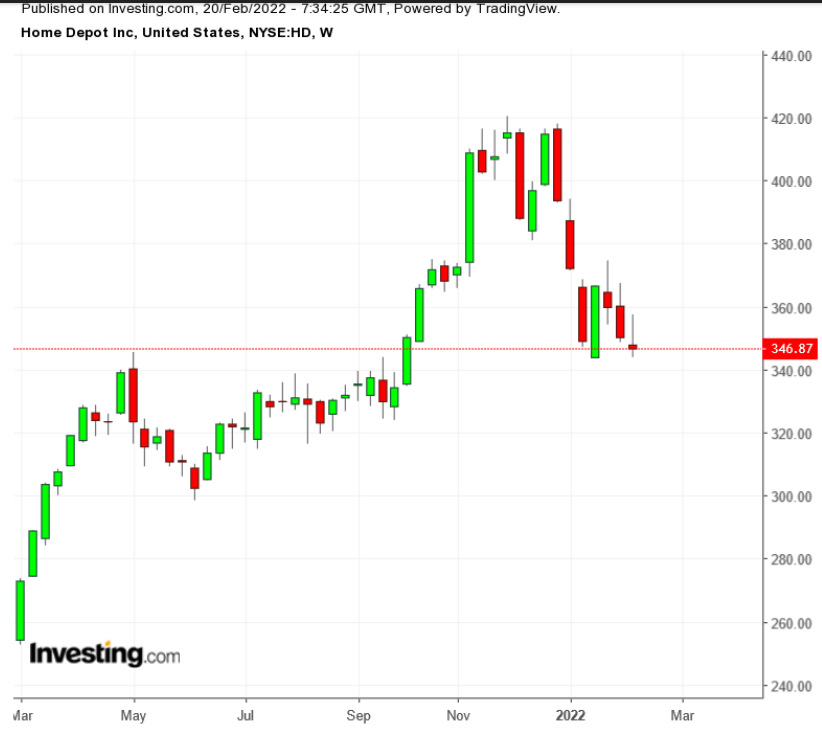 Since reaching its 52-week high in late December of 2021, shares of Atlanta, Georgia-based Home Depot have fallen 17% on concerns that the big box retailer will struggle to increase sales as the pandemic-induced surge that diverted locked-down Americans' savings to their homes fades.
The biggest threat to housing linked stocks comes from the Federal Reserve and how aggressively it intends to hike interest rates to fight inflation. If policy remains hawkish, it will hurt demand for single-family homes, one of the main drivers of demand for home improvement during the pandemic.
These uncertainties may continue to weigh on the stock as investors fear a slowdown in the business's momentum going forward. Shares closed on Friday at $346.87.
2. Macy's
New York City-based department store chain Macy's (NYSE:M) will be reporting Q4 earnings in pre-market hours on Tuesday as well. Analysts' consensus calls for EPS of $1.99 on sales of $8.43 billion.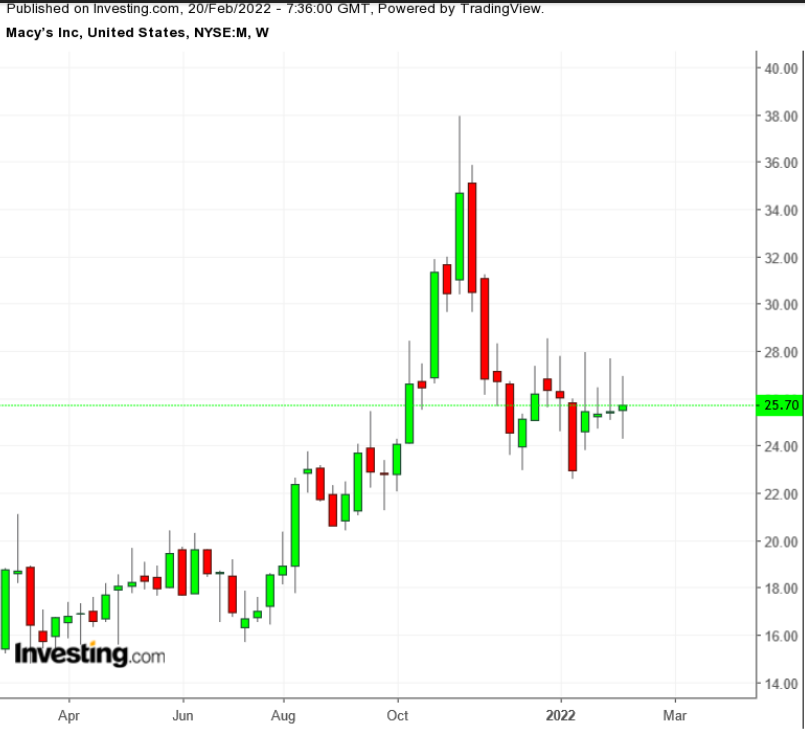 In November, the national retailer posted stronger-than-expected results for the third quarter and raised its full-year earnings guidance, showing that consumer demand remained robust going into the holidays.
In addition to performing well despite supply-chain disruptions, Macy's is also benefiting from its investments in digital capabilities at a time when more and more consumers are buying online. Indeed, Macy's plans to launch a digital marketplace in the second half of this year, aiming to expand its product assortment and highlight third-party merchants.
Activist investor Jana Partners, which according to a Bloomberg report bought 1.5% of Macy's outstanding stock, then pushed the department-store chain to spin off its e-commerce unit—a move that could boost its valuation—has now reportedly sold off much of their earlier stake. Nonetheless, the department store chain is expected to post big gains for the quarter and full year 2021.
Macy's stock closed on Friday at $25.70, down about 30% in the past three months. This weakness comes after a robust rally that pushed the stock to a 52-week high of $37.95 in November.
3. Moderna
Moderna (NASDAQ:MRNA), the Cambridge, Massachusetts-based biotech firm, will report Q4 earnings on Thursday, Feb. 24, before the market open. Analysts expect $9.62 a share profit on sales of $6.57 billion.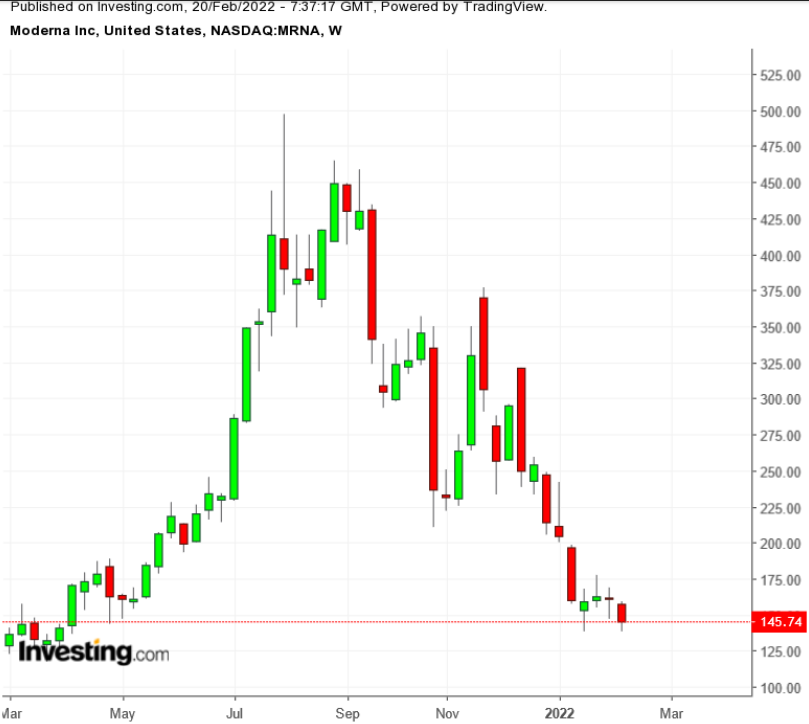 The company is one of the two major providers of the COVID-19 vaccine, along with Pfizer (NYSE:PFE). Shares of MRNA rallied during the pandemic, but the stock has tumbled 43% this year. It closed on Friday at $145.74.
This sharp pullback comes as the Omicron wave of the virus has been rapidly fading, making it unclear what the near-term outlook will be for vaccine producers if the pandemic moves to an endemic stage after the most recent surge.
Moderna disappointed investors in November when its sales and earnings badly missed analysts' estimates. At that time, it also lowered its forecast for 2021 COVID-19 vaccine sales, mainly due to longer lead times for international orders.
Originally published on Investing.com