The market just finished probably the best November on the record. It bounced back from the lows of early November and has been making new all-time highs. First and foremost, the uncertainty around the big election is largely over. The fear factor has come down rapidly since after the elections. The market is having a sort of relief rally largely with the expectations of a divided govt in Washington DC. The second big factor has been the news of highly successful trials of Coronavirus vaccines and the hope that the pandemic may finally be behind us by early summer.
Nonetheless, we should always remind ourselves that there is only one thing certain in markets, and that is 'uncertainty.' Even though the broader economy continues to recover, many challenges and uncertainties remain. Obviously, the big question remains is where do we go from here?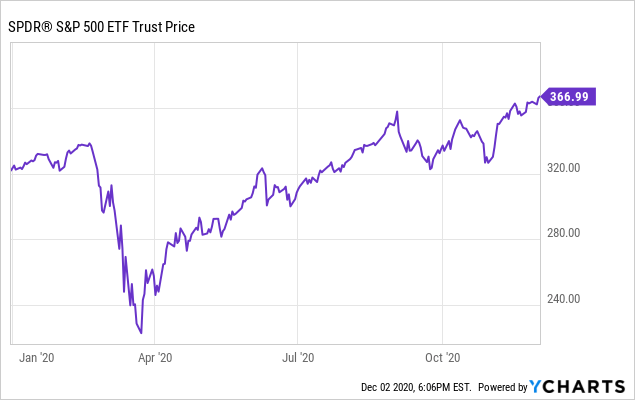 As we always have said, we should look at investing as a long-term game plan and not on the basis of day-to-day or week-to-week gyrations. As long-term dividend investors, we need to pay less attention to the short-term movements of the market and pay more attention to the quality of companies that we buy and buy them when they are being offered relatively cheap. The goal of this series of articles is to find companies that are fundamentally strong, carry low debt, support reasonable, sustainable, and growing dividend yields, and also trade at relatively low or reasonable prices.
The market is not easy to navigate, even during the best of times. That's why we remain on the lookout for companies that offer sustainable and growing dividends and are trading cheap on a relative basis to the broader market as well as to their respective 52-week highs. We believe in keeping a buy list handy and dry powder ready so that we can use the opportunity when the time is right. Besides, we think, every month, this analysis is able to highlight some companies that otherwise would not be on our radar.
This article is part of our monthly series, where we scan the entire universe of roughly 7,500 stocks that are listed and traded on US exchanges, including over-the-counter (OTC) networks. However, our focus is limited to dividend-paying stocks only. We usually highlight five stocks that may have temporary difficulties or lost favor with the market and offering deep discounts on a relative basis. However, that's not the only criteria that we apply. While seeking cheaper valuations, we also demand that the companies have an established business model, solid dividend history, manageable debt, and investment-grade credit rating. Please note that these are not recommendations to buy but should be considered as a starting point for further research.
This month, we highlight three groups of five stocks each that have an average dividend yield (as a group) of 3.57%, 5.69%, and 8.16%, respectively. The first list is for conservative investors, while the second one is for investors who seek higher yields but still want relatively safe investments. The third group is for yield-hungry investors but comes with an elevated risk, and we urge investors to exercise caution.
Full story on SeekingAlpha.com