When looking for growth potential, there's a lot to like about many consumer stocks these days. Consumer spending has been on fire so far this year and it looks like the economy is going to continue to perform strongly — despite the disruption of the Delta Covid-19 variant.
Each of the companies on this list is positioned to take advantage of an aspect of consumer spending. But it gets better. Each of these consumer stocks is also a strong performer as a dividend stock. These picks offer the combination of long-term growth plus the regular income of a dividend payment.
There are stocks with larger dividend yields (here's a recent list if that's more your target), but this group of consumer stocks is unique for its combination of growth potential and each currently has an A-rating in Dividend Grader.
Campbell Soup (CPB)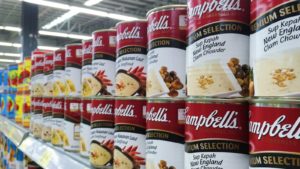 When people were stuck at home and looking for food to stockpile during last year's pandemic lockdown, they turned to soup. That resulted in a surge of business for Campbell Soup.
In 2021, with people getting outdoors and even visiting restaurants as much of the country opened up, soup sales dropped off. So did CPB stock, which is down 13% so far this year.
However, with another winter approaching and consumers on edge about possible lockdowns because of the surging Delta variant, pantry staples like Campbell soup could see another uptick in sales. That could put CPB stock back into growth mode. In addition, Campbell has a proven dividend track record. CPB's 3.38% dividend yield makes it an attractive option.
Ethan Allen (ETD)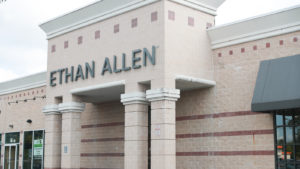 Shares in American household furnishing chain Ethan Allen had been in a three-year slide prior to the pandemic. Then, consumers who were spending all their time at home and were enriched with stimulus checks started spending. New furniture was a must-have, but supply chain challenges made it tough to find.
Ethan Allen was on a roll as shoppers scrambled to upgrade their homes and home offices with premium furniture. That push to buy new furniture hasn't let up, even though lockdowns are in the past.
By its fiscal fourth quarter in June 2021, Ethan Allen reported net sales up 94.7% year-over-year, and a record-high order backlog. In addition, the company reported it had paid its regular quarterly dividend plus a special cash dividend. ETD stock has posted gains of 82% over the past 12 months, and it's also a standout among consumer stocks for its 4.11% dividend yield.
Hamilton Beach (HBB)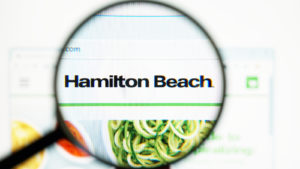 Pandemic lockdowns meant that consumers had to skip eating in restaurants and instead rely on takeout, or meals they made themselves. You can only eat so much Campbell soup, so many people started cooking again. Baking bread resulted in yeast shortages last year, but consumers also replaced or bought new small kitchen appliances. That was good news for small appliance maker Hamilton Beach.
That appetite for new counter-top appliances like coffee makers, blenders and toaster ovens hasn't let up. In its latest quarter, Hamilton Beach reported revenue up 11.8% year-over-year. The company's direct e-commerce sales are growing as well, and now account for 32% of sales. Hamilton Beach is forecasting demand for retail and commercial small appliance will continue to be strong through the rest of the year and into 2022.
HBB stock has been in a slump since June, and you can currently pick it up at near-2021 lows. With a 2.43% dividend yield rate, this stock is a nice add to a dividend-focused portfolio. 
H&R Block (HRB)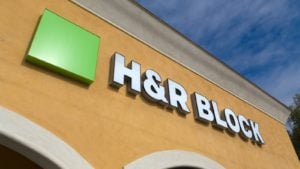 They say that nothing is certain but death and taxes, and that's why H&R Block is a favorite. HBB stock has been a solid performer in 2021, with a 60% return since the start of the year. I expect that momentum is going to continue.
Income tax season is going to be complicated this year. There are stimulus payments, unemployment benefits, new child tax credits and more to account for during filing. That's why I expect H&R Block to be doing a brisk business.
The other reason why HBB stock is a favorite? The company pays a regular dividend to investors. It currently has a 4.19% dividend yield, which is the highest on this list.
Full story on InvestorPlace.com