Meme stocks are a dangerous game; you can either get rich quick or go broke even faster. They're known for capturing attention online and going viral before their market price reflects anything close to reality. But when do they end up becoming popular, lucky investors might be able to ride the wave all the way to its peak.
As a result, novice investors enter the markets in droves to see if they can make quick profits. And these new participants lack experience with market fluctuations and riskier stocks, which has far-reaching implications for investing as a whole.
Notwithstanding, before we delve further into these stocks, keep one thing in mind — do not allocate a substantial amount of your savings to these stocks. Undoubtedly, they will pop on Reddit interest in the coming weeks and months. But these rallies, in many cases, will not be sustainable. So it's important to time your exit and entry positions very well.
Some of the stocks on this list are more familiar than others. But all of them have one thing in common: Redditors love them. With that being said, here are seven meme stocks with potential for huge gains:
Meme Stocks: Beyond Meat (BYND)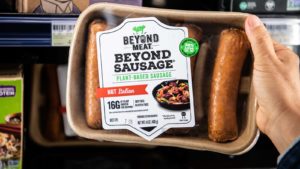 Beyond Meat is a startup that produces plant-based meats in the form of sausages, hamburgers and hotdogs. The company's founder wanted to create products with similar textures as traditional meat counterparts, but using plants instead.
The success of the company since its launch in 2009 is due to its innovative approach. It offers plant-based substitutes for a variety of meats, including beef, pork and chicken. But perhaps the biggest reason for bullishness is the pivot we see towards healthy eating.
Millennials and Generation Z have been interested in healthy foods for a while, and are increasingly willing to try vegan or vegetarian options. Hence, they are up for spending more money on fitness, healthy food and self-care compared to older generations.
Consequently, Beyond Meat's products can be a major player in the meat industry. However, these products currently represent less than 1% of an addressable market of $1.2 trillion, according to UBS estimates. With sales at current levels being about as much as what other players are bringing together, it seems inevitable that plant-based foods will start taking over.
However, the company still needs to deliver on its potential. According to CNBC data, it has reported four quarterly earnings misses in a row. If it starts developing fundamental strength, this will become a very enticing prospect.
Tesla (TSLA)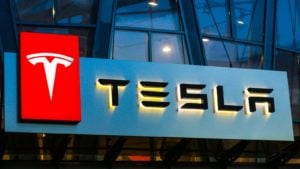 Until recently, the $800 mark was a tough level of resistance for Tesla shares. There's no clear indication as to why that was, other than potential supply chain issues. however, since then, the stock has risen to levels above $900 after a strong third-quarter earnings report.
Tesla's recent success has been largely due to the company's ability to navigate a global semiconductor shortage and produce more cars than investors expected. In Q3 alone, it delivered more than 240,000 vehicles — 10,000 more than what analysts expected. So far this year, Tesla surpassed 627,000 deliveries, which is up considerably from the comparable period last year.
Tesla has also been making progress on its self-driving car technology. Last month, the company started using Tesla-calculated safety scores to qualify drivers for the latest autonomous driving software.
Fully self-driving cars are not on the immediate horizon. Even with the driver assistance feature, drivers still need to remain alert on the road. But this is a move in the right direction, and Tesla stands to gain handsomely by being a leader in this space.
Meme Stocks: Nokia (NOK)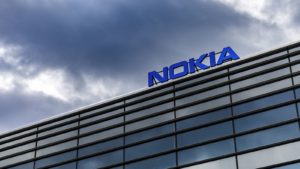 It goes without saying that a few decades ago, the world was a much different place. Many people still used traditional methods of communication, like paper documents in an office, fax machines or voicemail. Mobile phones were a game-changer, and Nokia's products were at the forefront of this communication revolution.
However, despite its early success in the cell phone business, Nokia is a cautionary tale. It famously lost the battle for cell phone supremacy with Apple (NASDAQ:AAPL) and could never mount a comeback.
But things have changed quite substantially. Nokia is now firmly a 5G play.
For those following the Nokia comeback story, it is remarkable. Much of the credit has to go to Pekka Lundmark, current President and CEO of Nokia, and his leadership team. He led them in an aggressive pursuit of 5G partnerships and deals, which resulted in rapid, substantial increases in Nokia's market share.
The recent quarterly results are a testament to the progress made. If it manages to maintain its momentum, NOK stock will be an industry leader for some time to come. That makes it one of the rare meme stocks that are not trading on retail momentum alone. Despite the recent surge, shares are trading at just 14.9 times forward price-to-earnings.
Full story on InvestorPlace.com