At the start of the pandemic, few investments seemed as risky as restaurant stocks. According to research published by Harvard Business School, two months into the pandemic, 40% of American restaurants were closed and 8 million employees were out of a job. That was three times the job losses experienced by any other industry. The National Restaurant Association projected an industry revenue shortfall of $240 billion in 2020.
However, the restaurant industry also proved resilient. There were bankruptcies — including some well known, national chains — but many restaurants successfully pivoted to takeout and outdoor dining. Now, with the country re-opening, hard-hit sectors are recovering.
Energy stocks have begun to rally. People returning to the office are picking up coffee again on their commute. Families are going to see movies. And these seven restaurant stocks are poised to benefit from the resurgence of dining out. 
While times were tough last year, some of these restaurant chains are now stronger than ever and positioned to grow their business at a faster pace thanks to adaptations they put in place because of the pandemic.
Restaurant Stocks to Buy: Brinker International (EAT)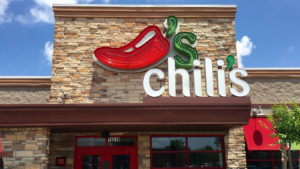 Brinker International is the owner of several restaurant chains, the most notable being Chili's. The company owns over 1,600 locations. Casual dining chains like Chili's were hit hard by the pandemic. Families stopped going out to eat, people stopped going out at night for entertainment, and office workers stopped going out for lunch. With business travel at a standstill, there was no-one staying at airport hotels and looking for a familiar spot for a meal and a drink.
As the end of January 2020 approached, EAT shares were worth nearly $46. By March 20, they were below $10. However, Chili's worked hard to adapt. The chain "took the dining room to the parking lot" and was selling $1 million a week in margaritas to-go. In its most recent earnings, Brinker reported revenue down slightly from a year ago, reflecting "the continued impact from the COVID-19 pandemic." That news was a big part of EAT stock sliding from its 2021 (and all-time) high close of $77.77 in March, to its current price in the $54 range.
That price — just slightly above its 2021 open — offers opportunity. Restaurant stocks like EAT are expected to climb as the pandemic recovery continues.
At the time of publication, EAT stock was rated "B" in Portfolio Grader.
Cheesecake Factory (CAKE)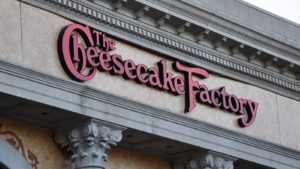 Casual dining chain Cheesecake Factory was in real trouble in 2020. It was not only a sit-down restaurant chain, but most of its locations were in malls. The pandemic devastated dining room business and it killed off mall traffic — with many malls forced to close altogether during lockdowns.
After plunging last February, CAKE stock rallied, but then the company ran into an Securities and Exchange Commission investigation. The SEC ruled that Cheesecake Factory told investors its locations were "operating sustainably" when in fact it was losing $6 million a week and had told mall landlords it would stop paying rent.
The company reported its second-quarter 2021 earnings in July. Earnings and revenue beat estimates, thanks to indoor dining restrictions being lifted and its pandemic-kickstarted takeout operations performing well. Even now, takeout sales are double 2019 levels, which has opened up new business opportunity for this chain. The company even opened three new locations during the quarter. CAKE stock is currently trading in the $45 range, up 28% since the start of the year.
The Portfolio Grader rating for CAKE stock is currently "B."
Restaurant Stocks to Buy: Darden Restaurants (DRI)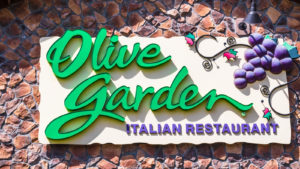 Darden Restaurants owns several fine dining restaurant chains and a half dozen casual dining chains. The one most people know the company for is Olive Garden.
Darden is turning into a post-pandemic success story. When the company reported fiscal fourth-quarter results at the end of June, it beat analyst expectations for both earnings and revenue. Darden said that same-store sales for its restaurants had nearly returned to 2019, pre-pandemic levels. In addition, management projected fiscal 2022 sales will top pre-pandemic levels. Naturally, DRI stock popped on that news.
Darden was already a solid performer among restaurant stocks. DRI posted growth of 188% in the decade leading up to the pandemic. It tanked last March, but has been rallying since then. At this point, investors have seen a return of 25% since the start of 2021.
DRI stock currently earns a "B" rating in Portfolio Grader.
Denny's (DENN)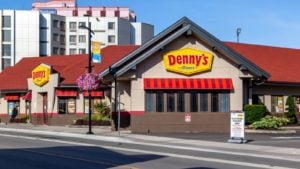 With a focus on breakfast (including an all-day breakfast menu), in-store dining and many locations located near transportation centers, Denny's had a tougher time than many restaurants during the pandemic. Even last August — when many other restaurants had successfully pivoted to takeout — Denny's was making lists of chains most likely to fail.
Denny's survived, and by spring, DENN stock rallied to near February 2020 levels. However, shares have taken a hit again after the company announced a stock offering in July. At this point, Denny's stock is up slightly in 2021. It has potential to rally again if re-opening continues, travel picks up and dining room breakfast is once again in demand.
At the time of publication, DENN stock was rated "B" in Portfolio Grader.
Full story on InvestorPlace.com