The undervalued stocks no one wanted to touch in 2020 became some of the best performers of 2021. Of course, this past year was certainly a mixed one for the stock market. Various hyper-growth stocks surged, meme stocks and other short-squeeze favorites took off and then declined, and a range of value sectors began recovering.
Whether this momentum can continue into 2022 remains to be seen. However, it's clear that investors are searching for value now more than ever. A range of undervalued stocks are increasingly being targeted by investors. Accordingly, it's clear that at least in the near term, there's like to be momentum among these names.
Now, it's unclear how broad-based this market selloff will be. For now, investors appear to be rotating out of growth and into value. Of course, the potential risk is that growth catches a cold, and passes it on to value. However, we haven't seen that play out yet.
Value stocks are those with better fundamentals and more established cash flows. Many of the best investors in the world continue to focus on value, due to the predictability of these companies' cash flows.
Let's take a look at seven of the top undervalued stocks (relative to their peers). Many of these companies are in high-growth industries, but with much better fundamentals. Accordingly, those looking for growth at a reasonable price may want to consider these stocks after their recent selloffs.
Pinterest (PINS)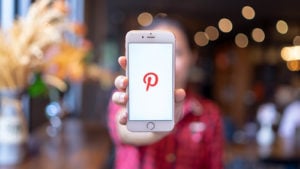 Over the past six months, Pinterest stock has been hit quite hard. Shares of this social media platform have dropped 59.10%. As people started stepping out into the real world, Pinterest saw a massive decline in its monthly active users in 2021. That's not good.
Accordingly, there are many growth investors who question the viability of Pinterest's business model. A company that grew impressively during the pandemic, it's unclear as to whether these catalysts will hold true moving forward. A reduction in monthly average users, albeit from a high base, furthers the bearish argument for this stock.
However, there's room for hope. Pinterest's new shopping feature and Pinner products, which it launched in the world's seven biggest markets, can make 2022 a bullish year.
According to the company's most recent quarterly report, Pinner products saw search interest double year-over-year. Searches by the Gen-Z population (7–24 years) rose almost 200%. With the success of this shopping feature, revenue rose 43% year-over-year, reaching $632.9 million in Q3.
Despite a fall in MAUs, this image-sharing platform still holds a user base of 444 million. With such an enormous range of customers, Pinterest can depend on continued advertising demand, and the ability to leverage this user base, to boost margins and improve earnings over time.
Accordingly, I view this company as one with relatively healthy fundamentals, despite what the naysayers tout for this company. For those looking for a value stock in the social media space, Pinterest is an excellent choice right now.
Zoom Video Communications (ZM)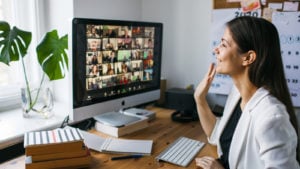 Zoom is another company that boomed during the pandemic only to seemingly go bust as investors returned to normal.
This video conferencing platform was among the fastest-growing stocks during 2020. However, last year, the company's growth rate slowed, leading some bears to suggest this company's run is over.
Now, it's usually a very dangerous thing to call the bottom on any stock. There's always room for more downside. In this market, with interest rates rising, there's little appetite to own a company like Zoom.
However, it's also good to look at beaten-down stocks from a relative value perspective. In the case of Zoom, looking at the numbers, this is a company with attractive upside potential.
The company's stock price has fallen nearly 70% from its peak. However, the company continues to grow its revenue at an impressive rate. Via Zoom's most recent earnings report, the company noted revenue growth of 35% year-over-year, to $1.05 billion. Of this total revenue, international sales accounted for only one-third of the overall amount. Accordingly, there are many investors who point to the fact that this is a company with lots of room to grow this year.
The rise of the Omicron variant also brings another potential near-term catalyst for Zoom. As the economy continues toward a work-from-home hybrid model, Zoom should benefit.
Qualcomm (QCOM)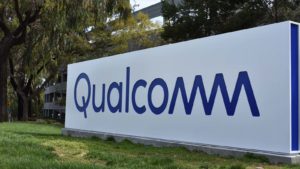 After a year of highs and lows, Qualcomm is currently trading near its all-time high. As Wall Street is slowly catching up to the growth investors have priced into this semiconductor company, Qualcomm remains a top choice of many growth investors.
That's not to say there's not an underlying value argument that can be made for this company. Far from it. Qualcomm's revenue growth of 63% year-over-year blew away analyst expectations. The company brought in $8 billion, compared to estimates of $7.58 billion. That's no small beat.
Qualcomm's contribution to mobile devices, especially Apple, and other wireless products, was the highlight of 2021. Accordingly, many believe this stock recently breaking through all-time highs could spell the end of the growth story with this company. I think that's an overdone idea.
Why?
Well, the digital world is undergoing a 5G revolution. Accordingly, Qualcomm's wireless technology will open new doors for the company to potentially become the leader of this industry. With its involvement in the fast-growing 5G industry, I'm bullish on where QCOM stock is headed from here.
Boeing (BA)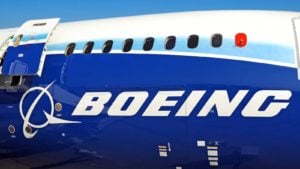 The second-largest aerospace manufacturer in the world, Boeing is an intriguing company to consider right now.
That's because this company has seen massive declines since the pandemic began. Slumping demand for airplanes, and pledges of militaristic reductions from the Democratic Party, have caused forward-looking earnings projections for Boeing to look quite dismal.
Since peaking in 2019, shares of Boeing also took a hit following two fatal 737 crashes and supply chain difficulties. These headwinds also persist today, resulting in a stock price that remains 50% below its 2019 peak.
Now, Boeing is a world-class company that more-than doubled its share price three years ago for a reason. This company's 737 Max aircraft sales are picking up.
A number of high-profile airlines have placed large orders for 2022, and Boeing appears ready to pick up the slack. Should this growth continue in the medium-term, Boeing is a stock with the potential to snap back in relatively short order. Accordingly, this is a company I have on my radar for 2022.
Moderna (MRNA)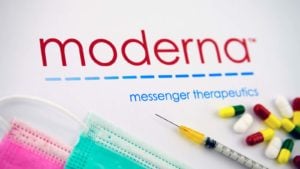 Another beaten-up stock that I've been critical of lately is Moderna. This vaccine manufacturer focused on producing MRNA vaccines (hence the ticker symbol), has been a big winner as a result of the pandemic.
Additional booster shots should increase this company's cash flow prospects over the medium term. Accordingly, investors worried about the threats the omicron variant provides the economy may view Moderna as a hedge to this market volatility.
However, concerns among bears generally focus on the lack of other products Moderna has presently. Yes, the company does have a number of prospective drugs in its pipeline. Given the success of Moderna's Covid-19 vaccine, some expect to see these products hit the market sooner than later.
However, this is a relatively young company in a market filled with experienced competitors with deep pockets. The extent to which Moderna can be a disruptive force in the big Pharma space remains to be seen.
That said, Moderna's financial results of late are worth considering. This company brought in nearly $12 billion in revenue last year, and has approximately $8.9 billion in inventory ready to be deployed. As a pandemic hedge, Moderna is a stock that can provide any portfolio with value right now.
Full story on InvestorPlace.com