Dividend stocks are popular among investors. There's a good reason for this. In fact, there are several good reasons.
Besides the returns from growth in the stock's value, you get dividend payments. These can be plowed back into your portfolio or used for income. Dividend stocks also tend to be lower risk — if the companies have the extra cash to dole out to investors on a regular basis, they're on a pretty solid footing.
The trick is to choose the right dividend stocks for a balanced portfolio. I've put together a list of seven companies that post impressive scores in Portfolio Grader, including top dividend grades.
Many of the things that make dividend stocks like these so attractive, also make them well-suited for those going into retirement. That's why you'll find several of these companies also appearing on my recent list of "A-Rated Retirement Stocks to Buy."
Dividend Stocks to Buy: Buckle (BKE)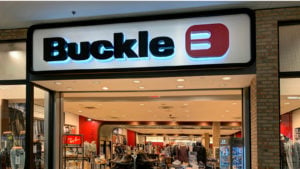 Buckle is a fashion retailer, with over 450 stores across the U.S., plus an e-commerce operation. Many investors dumped their holdings in clothing retailers during a dismal 2020. The novel coronavirus pandemic caused store closures and reduced foot traffic even when stores were able to open. With working from home gaining traction, spending on trendy clothing dropped.
Buckle ended 2020 with net sales slightly edging 2019's. That was helped considerably by the company's robust online sales, which increased 72% over the year. So Buckle did better than many of its peers. Not only did Buckle continue to pay its dividend through 2020, it supplemented those with several special dividends. The icing on the cake? BKE stock has posted impressive growth of 208% over the past 12 months.
With the country opening back up, spending on fashionable clothes is expected to pick up again. That would be good news for Buckle's bottom line.
BKE stock earns an 'A' dividend grade in Portfolio Grader, with a 1.37 dividend yield. It has an 'A' total rating.
Corning (GLW)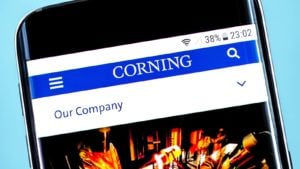 One of the reasons I like Corning is the incredible demand for its products. You think glass would be old-school and boring, but Corning makes the most in-demand display protection on the market, counting the world's largest electronics companies among its customers. You'll find Corning's Gorilla Glass protecting displays everywhere. And the company has expanded into even more high-tech protective materials. The iPhone 12 is protected by Corning's new Ceramic Shield.
Corning has a solid decade of paying quarterly dividends. However, GLW stock is also a great pick as a growth stock. Over the past 12 months, it has posted a gain of 120%. Given the demand for products like Gorilla Glass as everything from cars to refrigerators are equipped with big displays, I expect to see that long-term growth trajectory continuing.
GLW stock earns an 'A' total rating in Portfolio Grader, along with an 'A' dividend grade. It also has a 1.95 dividend yield.
Dividend Stocks to Buy: Dick's Sporting Goods (DKS)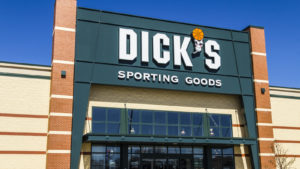 Like Buckle, Dick's Sporting Goods did better than many retailers in 2020. This sporting good retailer had also invested in e-commerce prior to the pandemic. That paid off with online sales doubling over the previous year. With gyms shut down and many recreational sports cancelled in 2020, Dick's also benefited from a run on in-home exercise equipment. That market has helped DKS stock to deliver a 214% return over the past 12 months.
Dick's did suspend its dividend program in the first quarter of 2020. With store closures, staff layoffs and temporary pay reductions for some employees, the company needed cash on hand for flexibility. However, when it became apparent that Dick's was weathering the pandemic better than most, last June the company announced quarterly dividends would be reinstated.
DKS stock has an 'A' total rating in Portfolio Grader. It has a dividend yield of 1.51, and an 'A' dividend grade.