Whether you are a retired individual, approaching retirement, or someone who just started their professional career, passive income should be your focus.
If you don't find a way to make money while you sleep, you will work until you die – Warren Buffett
The reason it is so important is that it creates stability, security, and freedom in your financial life. Passive income is not limited by your time and effort and as such can have a positive, and significant effect on your ability to build wealth in the long term.
Passive income requires upfront investments and a lot of research and analysis in the beginning. After years of hard work, these income streams begin to build and self-sustain bringing you predictable income with minimal effort on your part. Dividend income is a true form of passive income that enables investors to earn growing income with consistency, providing you the financial freedom you've always dreamed of.
Mr. Buffett is one of the few individuals who have managed to compound his wealth successfully at high rates of return for close to 70 years. His affinity to dividend growth stocks is no secret. His top 10 dividend picks paid almost $4.2 billion in 2020. Mr. Buffett's portfolio is a living example of the power of dividends.
You don't have to develop, maintain and grow your dividend portfolio alone. Our principles of immediate income investing and value investing are designed to guide the correct entry range, recommended allocation, risk levels, diversification, and overall portfolio hygiene to not only protect your income but also ensure sustained growth over the years.
When dividend-paying companies perform well during the year, the investors generally get rewarded with a healthy raise.
Today, we discuss three high-yielding stocks that have the potential to provide growing returns for years to come.
Pick #1: NLY – Yield 9.5%
Annaly Capital Management (NLY) is the largest mortgage REIT. It buys the highest quality tier of MBS (Mortgage-Backed Securities), "agency" MBS, and collects the coupon payment. These MBS are regarded as being among the safest investments in the world with a AAA credit rating. The stock currently yields 9.5%.
Agency MBS are guaranteed by government-sponsored enterprises and therefore carry minimal credit risk. If the borrower fails to make the mortgage payment, investors in these securities still get paid. 73% of Annaly's portfolio is agency MBS. 27% of NLY's capital allocation is in securities not backed by the government such as middle-market loans, and mortgage servicing rights.
Annaly is currently working to sell all of the assets that comprise its commercial real estate business to Slate Asset Management for $2.33 billion by Q3. NLY's book value in Q1 was materially impacted by the method of accounting used as their commercial assets were being moved to "held-for-sale" accounting. The held-for-sale criteria require all assets in the disposal group to be recorded at the lower of cost or fair value. Therefore, under held-for-sale accounting, assets are written down, with gains recognized at closing. As a result, these assets were written down over $140 million on their amortized cost basis. While book value growth was slow for this quarter, it will be fully recognized over time due to GAAP accounting.
The sale of the commercial business is positive for investors as it will free up ~$500 million in equity that can be reinvested into agency MBS.
The company has continued to increase its earnings, even while reducing its leverage ratio.

Data Source: Annaly Q1 presentation
This is possible because NLY has benefited substantially as their cost of funds has declined. In short, NLY's agency MBS investments seek to profit from the difference between the interest rate the MBS pays compared to the NLY's cost to borrow. With the Fed rate near zero, NLY has been able to borrow at an average of just 0.23%.

Data Source: Annaly Q1 Supplement
Distributions since Q1 2020 have been well covered by earnings with 132% coverage in Q1 2021. NLY currently trades at par with its book value, making it a good point to enter and lock in a high yield.

Data Source: Annaly Q1 presentation
Annaly's current 9.5% yield is very generous relative to other quality mREITs and the company continues to outearn its dividend while reducing its leverage ratio. We believe there is a strong possibility of a dividend increase in the second half of 2021.
Pick #2: AY – Yield 4.7%
YieldCos are companies that are formed to own operating assets (mainly in the renewable energy sector) that produce predictable cash flows through long-term contracts. YieldCos are a relatively new class of dividend stocks that offer the potential to profit from future growth of clean energy while providing regular income through the company's predictable cash flows.
2020 was an excellent year for renewable energy investment. This industry grew faster last year than it has since 1999 with installations increasing 45% YoY. Wind power capacity doubled while solar energy grew 50% in 2020. With the Biden administration strongly committed to cut U.S. carbon emissions over the next 10 years, the renewable sector is positioned to continue its strong growth.
Atlantica Sustainable Infrastructure (AY) is a Yieldco whose renewable sector represented ~74% of the top line in 2020. AY currently yields 4.7%. The company has geographically diversified operations as it owns and manages facilities in North America, South America, and EMEA.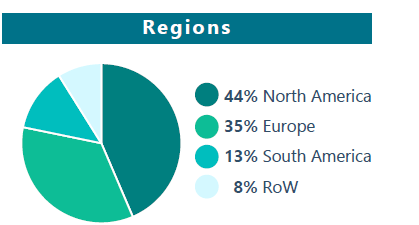 Source: AY Corporate Presentation – May 2021
The company owns 29 assets in four business sectors – Renewable Energy, Efficient Natural Gas, Electric Transmission, and Water. These assets are 100% contracted and have a remaining weighted average contract life of 16 years. For most assets, the contract life tails after debt amortization. In addition, debt refinancing opportunities can result in increased CAFD (Cash Available for Distribution).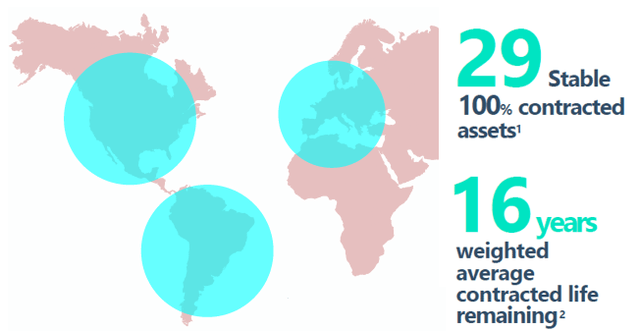 Source: AY Corporate Presentation
AY currently trades at 8x FCF, off from its recent high multiple of 12x. Current valuation presents a bargain when compared to YieldCo peers.

Data Source: YCharts
During Q1, the company's revenues grew 11.8% while CAFD grew 7.6%.

Source: Q1 presentation
The company's distributions are consistently well covered by CAFD with adequate funds retained for investments and asset growth.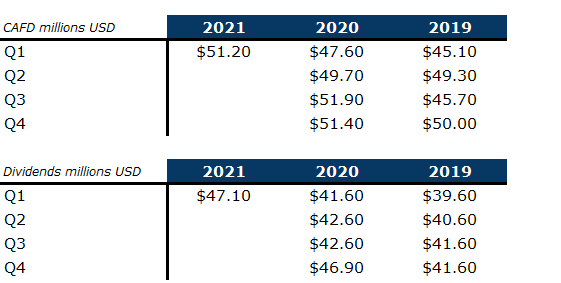 Source: Q1 presentation
The company recently announced a 2.4% dividend increase as a result of strong CAFD growth. The current yield of 4.7% presents an opportunity for reliable income and strong growth as the company grows its cash flow producing assets.
AY is an excellent income choice for your portfolio that will see dividend increases for years due to the increased global push for sustainable energy.
Pick #3: Oxford Lane Capital – Yield 11.7%
Full story on SeekingAlpha.com