Shares of Li Auto (NASDAQ:LI) are soaring on Monday, as are a few other China-based electric vehicle (EV) companies.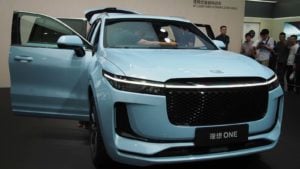 Li Auto is an EV manufacturer know for its "extended-range" vehicles. The cars have an engine, electric motor and a battery pack. The engine charges the battery and runs the electric motor, rather than driving the car itself.
That said, LI stock is rising due to the company issuing its October delivery update Monday morning. Li Auto reported delivering 3,692 Li ONEs during the month of October, an increase from 3,504 during September. The EV innovator also said that it set a monthly record for orders during October.
Overall, the company stated that it has delivered 21,852 vehicles during the first 10 months of 2020. Also, as of Oct. 31, Li Auto had 41 retail stores in 36 cities. That said, the firm touched on its future:
"Going forward, the Company plans to continue strengthening its direct sales and servicing network to further bolster its footprint and market penetration in China."