The marijuana market is blowing up and by some accounts, it is Reddit's fault. The Reddit Warriors or whatever you want to call them are ganging up on another market and artificially driving up the prices. Only that isn't what's going on at all. Yes, the Reddit crowd of retail traders has a lot to do with the price action in the cannabis market but they are not why the market is moving higher. Unlike Gamestop and other heavily shorted names, names ripe for a squeeze, there is a recovery underway within the cannabis market that will drive shares higher now and over the long-term.
That Was Then, This Is Now
This is not the first time we have used the phrase that was then, this now to describe the cannabis market. In the old days, the cannabis market was a wild-west of hyped-up forecasts and overblown expectations fueling not only investor craze, but CEO craze as well. No few of the early CEOs of the industry fell prey to overzealous planning in the face of rapidly deteriorating fundamentals. The market hit its peaks on the expectations the market would be worth an instant $5 billion Canadian in the first year and then grow to $10 billion over the next five to ten.
The reality is that annualized sales in the first month were just over $600 million and slow to grow. Bottlenecks and hurdles in the rollout of Canadian licenses and the opening of new stores compounded another problem, overcapacity and oversupply, and that burst the bubble. The next year and a half will see the industry scramble to shore up balance sheets, scale back production, focus on operations and governance, and basically get itself into better shape.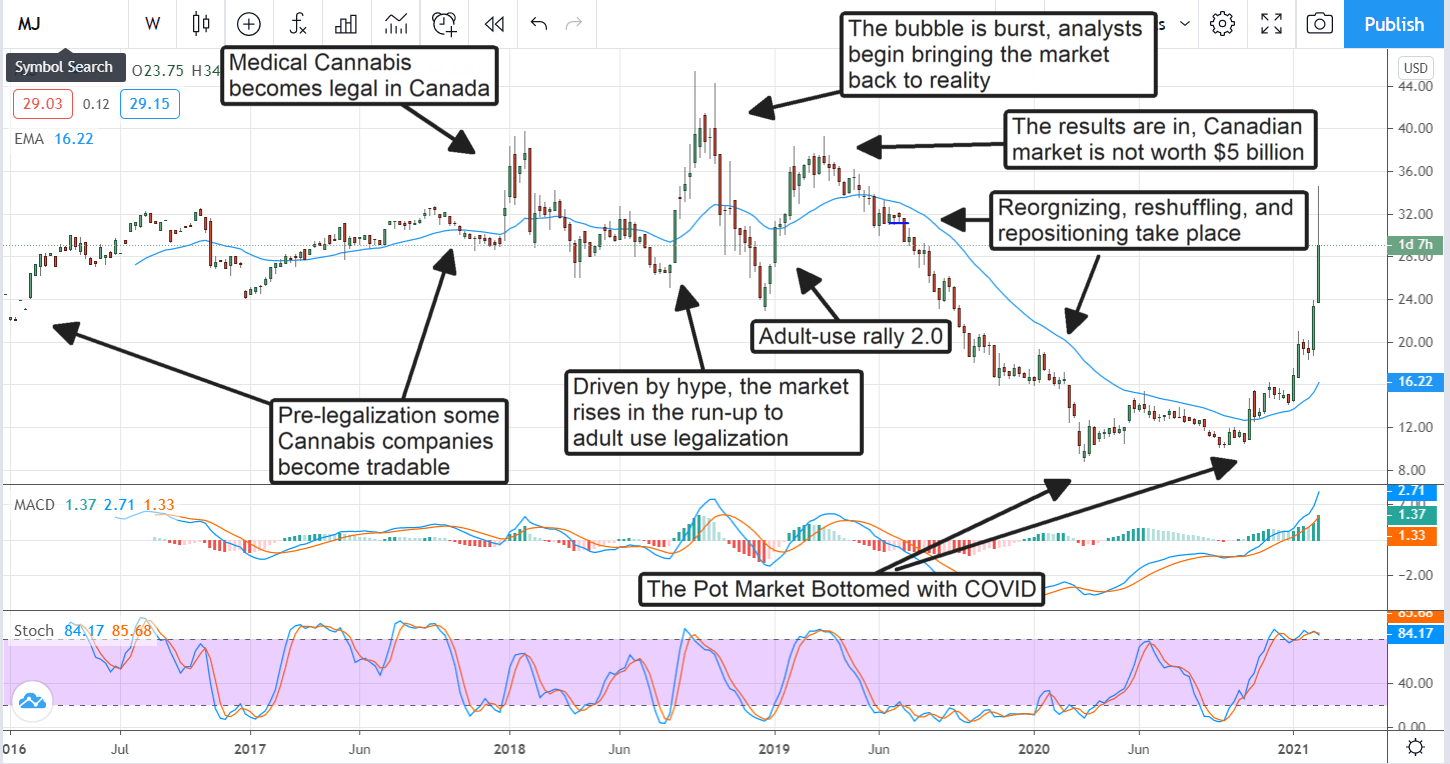 Now, in early 2021, the Canadian cannabis industry is in the best shape its been in since it was legalized. Sales across the country are up more than 400% on a monthly basis and annualize to $3.2 billion Canadian dollars or about $2.5 billion USD. And it's still growing. The combination of improved operations, growing sales, and widening distribution channels also has these companies on the verge of profitability if not already producing positive income.
And there is the U.S. angle to consider as well. The U.S. cannabis market is already worth $18 billion and growing at a high-double-digit. While still impacted by the lack of Federal regulation the U.S. market grew 67% in 2020 and is on track to grow by double-digits again in 2021. And that's not counting the Biden administration and the growing probability of Federal regulation by the end of his term. The takeaway is that the cannabis market is healthy, growing, and profitable where it wasn't before and that has share prices moving higher. The Reddit crowd only added fuel to the fire.
Full story on MarketBeat.com