2020 is coming to an end and 2021 is starting, which is why we want to take a look at a couple of stocks that could be of value for income-oriented investors. All of these stocks provide above-average dividend yields, while we also see upside potential for these stocks over the coming years, based on them trading at inexpensive valuations.
2020 Review
2020 was, of course, the year of COVID. The pandemic had a great impact in every area, be it health, economics, or how we spend our free time. Looking at the investing side of things, COVID has made 2020 a year in which technology easily outperformed. More work-from-home, more online shopping, etc. made many tech stocks rise massively this year. The NASDAQ index (QQQ) rose by more than 40% this year, easily outperforming the S&P 500 (SPY) and the Dow Jones Index (DIA). Healthcare stocks, on the other hand, did not perform too well during 2020, despite the pandemic. Some procedures were put on hold in order to free up resources for combatting the pandemic, which explains why medtech stocks, among others, did not rise a lot this year.
2020 also has been a year during which oil stocks and oil-related stocks underperformed. In some cases, this was clearly justified, as earnings for many upstream companies and refiners vanished. Midstream and other infrastructure stocks, however, have oftentimes not seen their profits and cash flows get devastated, and yet many of these stocks are down a lot this year.
Last but not least, growth stocks outperformed value stocks this year, which is, at least partially, due to the fact that most strong-performing tech stocks clearly belong to the latter category.
Preparing For 2021
2021 will continue to be heavily influenced by the pandemic, but we believe that there is a high likelihood that the pandemic is successfully fought back in summer or towards the end of the year, as more and more people can be vaccinated. At that point, value stocks that were sold in 2020 due to the pandemic impact should start to outperform, as things get back to normal eventually. We thus like quality stocks that are inexpensive and that have upside potential during a recovery, while also being sufficiently resilient to weather a couple of months of the pandemic without running into problems. The following list of stocks fits these criteria and could thus be interesting for income investors looking for underappreciated investments.
1: Bristol-Myers Squibb
Bristol-Myers Squibb (BMY) is a leading biopharma company that owns a range of high-grossing drugs, such as Eliquis, Opdivo, and Revlimid. Bristol-Myers Squibb generates revenues of $40 billion a year, and that amount has not taken a large hit during the pandemic, proving its resilience. During the most recent quarter, Bristol-Myers Squibb generated revenues of $10.5 billion, up 6% adjusted for the Celgene takeover. The company was thus able to actually grow its revenues and profits in this crisis, which, of course, is something we like to see.
Bristol-Myers Squibb has been an inexpensive stock for a while, and that continues to hold true, despite the fact that broad markets have run to new all-time highs: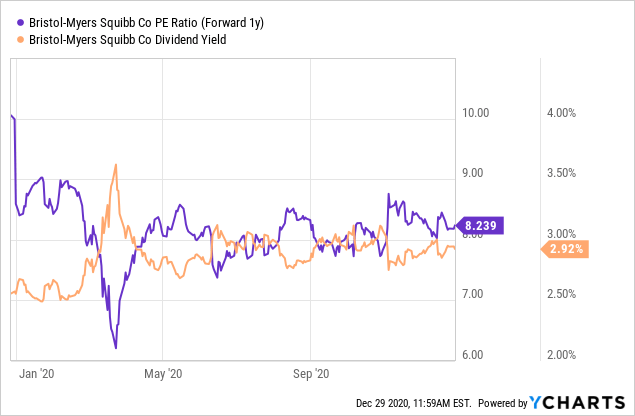 Shares are trading for just 8.2 times 2021's net profits, for an earnings yield of ~12%, while the stock also offers a dividend yield of 2.9%, which is more than one and a half times as much as the broad market's yield of 1.6%. Bristol-Myers Squibb offers a combination of growth, resilience, an inexpensive valuation, an above-average dividend yield, and last but not least, its shares are not very volatile, thanks to a beta of just 0.66. In combination, this makes Bristol-Myers Squibb an attractive choice for 2021, we believe.
2: AbbVie
AbbVie (ABBV) is active in a similar industry, and just like Bristol-Myers Squibb, it combines many attractive traits: Resilience during this pandemic, an inexpensive valuation, an attractive dividend yield, and exposure to a high-growth industry. Just like Bristol-Myers Squibb, AbbVie has done a major takeover in the recent past, buying Allergan. Allergan's Botox sales have dropped during this pandemic, as procedures were put on hold in some countries, but apart from that AbbVie's portfolio is doing well despite the pandemic. On the back of strong growth from Skyrizi, Rinvoq, and its oncology drugs, AbbVie generated revenue growth in the double-digits, even when the Allergan takeover impact is backed out.
Full story on SeekingAlpha.com