Tech stocks are getting crushed.
Year-to-date, the tech-heavy Nasdaq index is down 5.4% in just nine short trading days. That's a steep decline. It marks the index's worst start to a year since 2016, and its second worst start since 2008.
Ouch!
But, as a long-term investor, you know that tech stocks are where the big money is going to be made over the next five to 10 years. You know that technology is taking over the world. You know that this sell-off will pass. You know that when it does, tech stocks are going to power higher.
So, all you're waiting for is the right time to buy the dip in tech stocks.
Well, that time may have come…
One technical analysis we ran yesterday hints that tech stocks are currently at or very close to a near-term bottom, and that within the next few weeks, they're going to rebound in a big way.
Ever since the Covid-19 pandemic emerged in early 2020, the Invesco QQQ Trust (QQQ) has formed a habit of bottoming whenever it "double breaks" its 100-day moving average. That is, in each of the past four tech stock sell-offs over the past two years, the Invesco QQQ Trust broke its 100-day moving average once, rebounded, dropped, broke it again, and then bottomed.
This happened in October 2020. It happened in March 2021. It happened again in May 2021, and October 2021.
And guess what? It just happened again yesterday.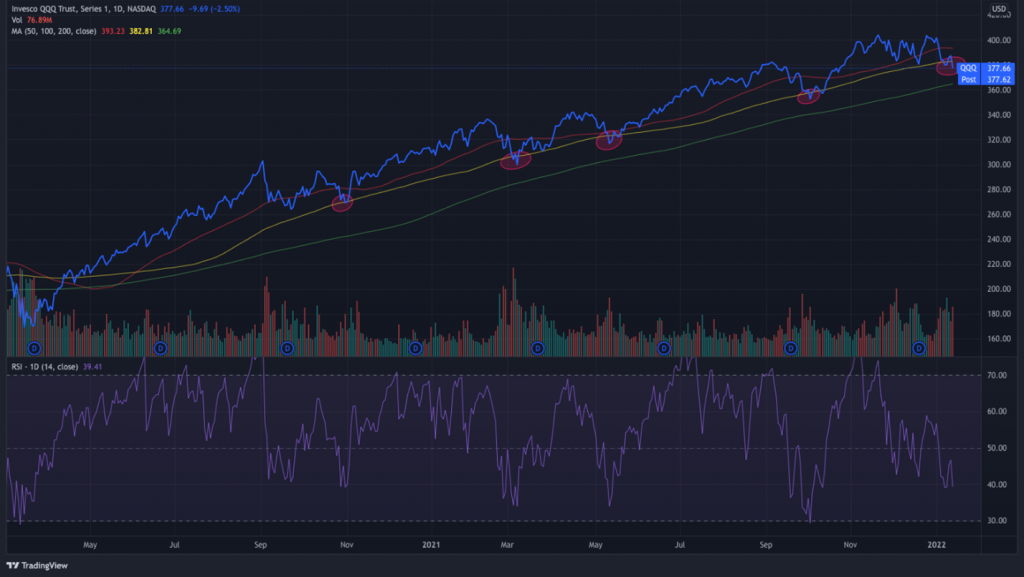 That is, we got that big "second break" of the 100-day moving average in the QQQ yesterday during the Nasdaq's 2.5% plunge.
History says we're either at or close to the bottom.
So, while everyone else is running away from tech stocks, you should actually be running toward them. From those "second breaks" in the 100-day, the QQQ rallied:
25% from November 2020 to February 2021.
14% from March 2021 to April 2021.
21% from May 2021 to September 2021.
14% from October 2021 to November 2021.
In other words, history says that what comes next is a double-digit rally in tech stocks over the next few months.
But certain tech stocks will rally much, much more than that…
Certain tech stocks will soar several hundred percent over that stretch…
And those are the tech stocks you should be buying right now. Forget the QQQ. It's time to buy specific tech stocks with enormous upside potential!
Who wants 10% returns when you could get 50%, 60%, or even 100% returns?
To find out what stocks I'm talking about, click here.
Originally published on InvestorPlace.com