When GoodRx (NASDAQ:GDRX) stock debuted in September, its price immediately leaped 60%, peaking at $57 in early October. Regular investors couldn't have bought shares at any reasonable value, so I wrote GDRX stock off as "yet another high-priced 2020 IPO."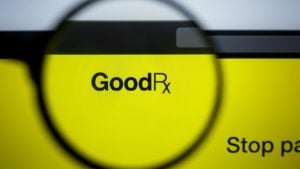 Shares, however, have since declined to a more reasonable $52. At this price, it's time to take a serious look into this game-changing company.
That's because, in April, the federal agency responsible for Medicare changed its guidelines on telemedicine reimbursements. With insurers now required to cover remote doctor visits at parity, the floodgates for telehealth companies like GoodRx have finally opened. And with its high-growth strategy and proven executive team, GoodRx is in pole position to become the next Amazon of healthcare.
GoodRx Stock: From Pharmacy to Telehealth
As I've emphasized before, investments with 1,000% potential returns need three key things:
A growing market.
A proven product or management team.
A catalyst that tells us, "why now?"
The fourth qualification — price — is also essential, but depends more on market size.
Miss one of them, and you end up with either 1) a well-run but slow-growing company or 2) a high-potential firm that goes nowhere.
Fortunately for investors, GoodRx hits all three qualifications for a 1,000% returner. The company was founded in 2011 by former Facebook (NASDAQ:FB) engineers, and its flagship product, an online prescription price comparison tool, already has almost 5 million monthly users. The firm is highly profitable, and its telehealth marketplace opened at just the right moment in history.
So, for those who are tired of high-priced, money-losing IPOs, here's why GoodRx stock looks different.
POPULAR: This is required by law to pay out when you request it
Reason No. 1: CMS Gives GoodRx Stock A Real Catalyst
With new technologies, people should always ask: "Why now?"
That's because innovations often need the right environment to grow. Video sharing sites like ShareYourWorld.com (founded in 1997) wouldn't have worked until high-speed broadband came around in the mid-2000s.
And in medicine, mail-order pharmacies and telehealth companies have been around for years. Pharmacy benefit management (PBM) company Catamaran had a large mail service pharmacy, which UnitedHealth (NYSE:UNH) eventually bought in 2015 for $12.8 billion. Teladoc (NYSE:TDOC), a telemedicine company, has been around since 2002. Yet, telehealth still makes up just 1.5% of the healthcare market.
And that's why catalysts are so crucial to high-growth companies like GoodRx.
Reason No. 2: GoodRx and a Growing Market
Today, GoodRx earns money from its prescription drug price comparison website. Users can search for the cheapest drug providers, and GoodRx receives a commission from PBMs for the referral. It's an extremely lucrative business (earning the company eye-popping 36% margins in 2019) and growing revenues at 50% per year. Independently, GoodRx might be worth $20 billion in that space.
Then something even more interesting happened. In April 2019, the company acquired telehealth company HeyDoctor, and in March 2020, it launched the GoodRx Telehealth marketplace.
These additions couldn't have come at a better time. In 2018, Americans spent $335 billion on prescription drugs, according to the CMS. And a large portion is still covered by insurance, reducing the usefulness of GoodRx's price comparison tool. On the other hand, physician services took in $564 billion, which makes it a far broader market for telehealth. And that doesn't include possible telehealth applications, in-home healthcare ($102 billion annual spend), other personal care ($552 billion) or nursing care ($168 billion).
If GoodRx can turn its highly efficient marketing funnel toward acquiring telehealth customers, the company could become worth multiples of its current valuation.
Reason No. 3: Strong Product, Strong Management
The numbers paint a flattering picture of the online health company. GoodRx has been profitable since 2016, an impressive feat for a fast-growing software company. It's consistently kept R&D and administrative spending under control, using just 3.7% of revenues on overhead costs. And its share-based compensation of just $3.7 million in 2019 also indicates a focus on shareholder value. Recent IPO Snowflake (NYSE:SNOW), by comparison, awarded $78.3 million in share-based compensation in 2020, despite generating just 68% of GoodRx's revenue and negative profits.
And what about its actual product? App reviews are overwhelmingly positive, with users applauding the company over their prescription drug savings. GoodRx needs excellent customer experiences to keep its pipeline of referrals up.
What's GoodRx Stock Worth?
Here's where investors should rightly worry. The company's monthly users dropped from 5 million in March to 4.2 million in April when the coronavirus pandemic took hold. Though users have steadily climbed back to 4.9 million, it's a reminder that GoodRx must fight for repeat customers. (Mail-order pharmacies, on the other hand, generate endless income streams from chronic prescriptions).
There are also other concerns: Single-payer healthcare reform could instantly sink the GoodRx pharmacy franchise — users would no longer have a reason to price-compare drugs. A stronger competitor could also derail the online healthcare firm's growth.
And that makes GoodRx challenging to value. A traditional two-stage DCF model that grows revenues to $9 billion by 2030 pegs the company at a $34 billion enterprise value, or $92 per share. That's an 84% upside. However, raising the discount rate (a measure of risk) to 11% drops fair enterprise value to $20.2 billion, or $52 per share.
A more aggressive approach might use a venture-capital (VC) method of market sizing. It's less precise but gives better insight into untapped markets. Currently, analysts expect the global telehealth industry to grow 23.4% annually through 2026. Suppose we assume that U.S. telehealth grows faster at 55% (thanks to the CMS rule change). That suggests a $142 billion market by 2026, or 2.5% of total healthcare spending. If GoodRx receives a 12% "take rate" and obtains a 30% market share, it would earn $5.1 billion from telehealth revenues alone. Adding another $4 billion from pharmacy services and a 8x price-sales (PS) multiple puts value at $72.8 billion, or almost $200 per share.
All this means that GoodRx still has a lot to prove. Even though it hits all three "high-growth" company points, we won't know for years if it's the next successful Amazon or the next failing Overstock (NASDAQ:OSTK). But until then, it could be worthwhile to make a small wager. Because in the world of high-growth investing, it just takes one winner to make your portfolio shine.